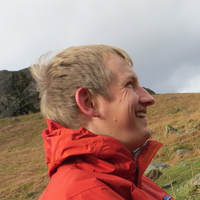 Handling unforeseen and unsolved challenges on a daily basis. I lead the Binder Project and work at Skribble. I love using my training as a physicist and experience in solving complex problems as a team to build tools that solve real world problems for real humans. In my free time I swim, bike, run.
History
Over the last two years I have helped build and scale Skribble - we offer easy to use and legally binding electronic signatures.
In the autumn of 2018 I joined Skribble as the first full time employee. I continue to offer JupyterHub consulting through Wild Tree Tech.
In May 2016 I started Wild Tree Tech a Switzerland based engineering company that builds, maintains and operates JupyterHubs and BinderHubs for teachers, data-science teams and the community.
Previously I was an experimental physicist working at CERN, doing science with data.
I have a PhD in Experimental Particle Physics from The University of Manchester.
Some of the things I have done:
Created Project Everware which allows users to edit and run other people's code with one click, even if that code has complicated setup instructions. This project has morphed into mybinder.org which serves over 100000 sessions a week to the general public. I continue to lead the project.

Conceived, designed and developed a four day training program for young scientists: the LHCb Starterkit. It covers basic tools such as bash, git, and python (based on SWC material) as well as the LHCb data-analysis framework. The first event had 40 participants. It is now the default training course of the collaboration.

Founded Social Solutions Research, a not-for-profit association dedicated to applying technology and innovation to humanitarian problems. I lead a team of five, we were contracted by the International Committee of the Red Cross to develop a better body bag for mass-casualty situations. We received over CHF100'000 of grant funding to further develop the bag. Read more.

Completed a Ironman 70.3 or Half Ironman. The "70.3" refers to the total distance in miles covered in the race. It consists of a 1.2 mile swim, a 56 mile bike ride, and a 13.1 mile run. For this I planned and execute my training schedule over several years of getting fit. On the day I completed the race in just over five hours, because the race was in the England it rained most of the time. It was glorious.

I got my start in open-source projects by contributing code, filing bugs and reviewing code focused on tree based machine-learning methods for the open-source scikit-learn project.
Contact
If you want to get in touch, send an email.
Tim is on Twitter, and he sometimes posts pretty things to Instagram.
Free time
In my spare time I like to train for and compete in triathlons. This involves swimming, biking and running crazy long distances without a break. The aim is to complete all three sports (including transitions!) in the fastest time possible. I enjoy the challenge of planning and executing my training as well as juggling life and work during the months before a race. Race day is a physical and mental challenge as you race against the clock and your expectations for several hours.
Location, location, location
I currently live in Stäfa, Switzerland. Close to Zurich. We might have met back when I lived in one of these places:
Brugg, Switzerland
Geneva, Switzerland
Manchester, England
Chicago, USA
Rödermark, Germany