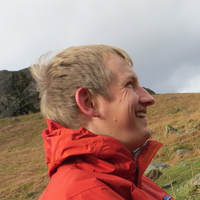 Handling unforeseen and unsolved challenges on a daily basis. I lead the Binder Project and work at Skribble as a senior software engineer. In my free time I swim, bike, run.
History
In the autumn of 2018 I joined Skribble as a senior software engineer. I continue to offer JupyterHub consulting through Wild Tree Tech.
In May 2016 I started Wild Tree Tech a Switzerland based engineering company that builds, maintains and operates JupyterHubs and BinderHubs for teachers, data-science teams and the community.
Previously I was an experimental physicist working at CERN, doing science with data.
I have a PhD in Experimental Particle Physics from The University of Manchester.
Things I have done:
Contact
If you want to get in touch, send an email.
Tim is on Twitter, and he sometimes posts pretty things to Instagram.
Free time
In my spare time I like to train for and compete in triathlons. This involves swimming, biking and running crazy long distances without a break. The aim is to complete all three sports (including transitions!) in the fastest time possible. I enjoy the challenge of planning and executing my training as well as juggling life and work during the months before a race. Race day is a physical and mental challenge as you race against the clock and your expectations for several hours.
Location, location, location
Tim currently lives in Brugg, Switzerland. You might have met him back when he lived in one of these places:
Geneva, Switzerland
Manchester, England
Chicago, USA
Frankfurt, Germany